August 3, 2017
Workplace safety is important for preventing injuries and keeping claims costs low, but there's much more to the equation. The Journal of Occupational and Environmental Medicine estimates that employee obesity costs U.S. employers $73.1 billion annually in medical costs and lost productivity. This expense can be minimized by building a foundation of wellness and promoting a healthy lifestyle in your workplace.
In fact, for every $1 you spend on wellness, you can get up to $3 in savings on health-related costs. Take a look below at why wellness is one of the best investments you can make.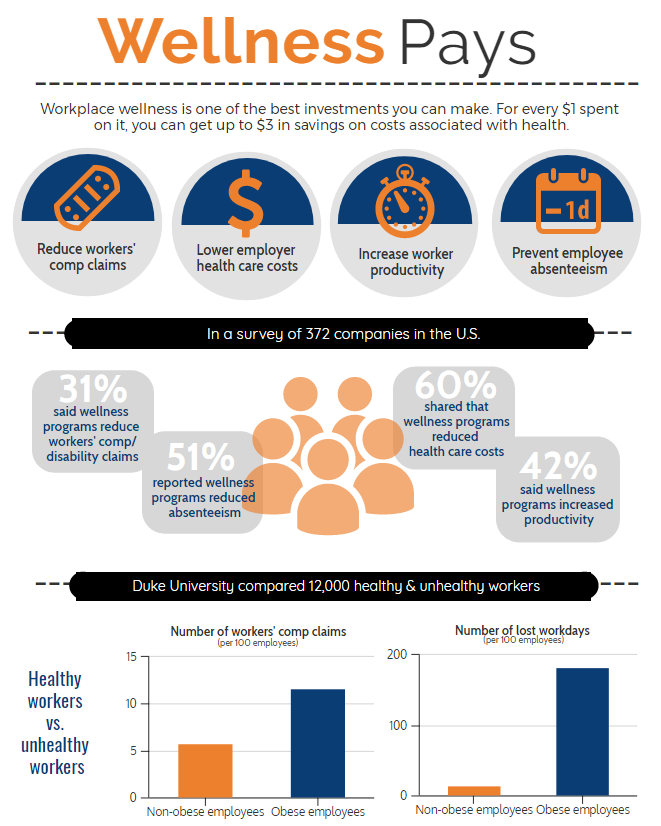 Reduce workers' compensation costs. Your employees likely spend at least 40 hours a week at work, which means that creating a healthy environment for them is key. A 2007 study of Duke University employees showed obesity had a significant effect on the cost and duration of workers' compensation claims. The Duke report found that obese workers filed twice the number of workers' compensation claims, had seven times higher medical costs from those claims, and lost 13 times more days of work from injury or illness than did non-obese workers.
To help fight this issue, educate your employees on body mass index (BMI) rates. Invite a nutritionist or fitness trainer to lead the training to discuss healthy BMI rates and steps your employees can take to get into the normal range.
Lower employer health care costs. Unhealthy employees can increase health care costs for a company. A study from the University of Michigan suggests that unhealthy lifestyle conditions like smoking, stress, or obesity account for one out of every four dollars employers spend on health care. The above mentioned Duke University study found the average medical claims costs per 100 employees were $51,019 for the obese compared to just $7,503 for the non-obese.
Increase worker productivity. The Harvard Business Review cites a 2009 study by Dr. Ronald Loeppke, which found that lost productivity costs are 2.3 times higher than medical and pharmacy costs. Health conditions like depression, anxiety, migraines, respiratory illness, arthritis and diabetes, among others, can contribute to lost productivity. Integrating exercise opportunities into the workday can make a difference. Encourage employees to take short breaks to stretch or walk, or offer an onsite fitness class like yoga for employees to attend.
Prevent employee absenteeism. Providing incentives for employee well-being encourages the improvement of an employee's overall health and often results in less required sick time. A wellness program can help employees improve their health, which may reduce the number of missed work days. For example, low back pain is the leading contributor to missed work days according to the National Institute of Neurological Disorders and Stroke. Walking and stretching can help alleviate back pain for chronic sufferers and may reduce the number of days away from the office.
Wellness programs provide employees with tools to reduce health risks and the knowledge to make healthier choices. A wellness program can also lower stress in the workplace, improve health and morale, increase company loyalty and help you to recruit potential employees.