December 17, 2018
Each year, we renew our commitment to our policyholders, agents and employees, and find ways to continue building upon our strong foundation. We're proud of all the ways that we delivered on that commitment this year from our new health care network to our customer experience enhancements.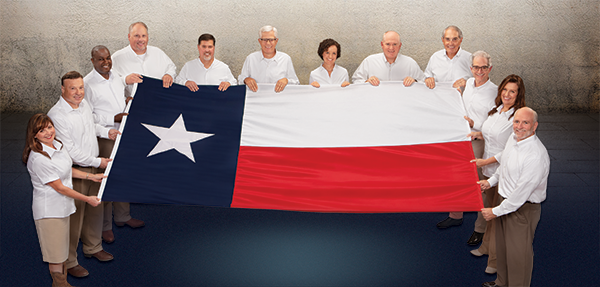 To recap these achievements, read our highlights from 2018 below:
WorkWell, TX
In January 2018, we launched our own health care network WorkWell, TX. By contracting directly with providers, we're able to select only those who offer the highest quality of care and are focused on helping injured workers return to a productive life. Our new network is delivering quicker return to work, a better experience for our policyholders and their employees, and lower claims costs.
2018 Best Company to Work for in Texas
Texas Mutual was recognized as a 2018 Best Company to Work for in Texas, an honor we have earned seven times. Our dedicated employees in Austin, Dallas, Houston and Lubbock further our mission to provide a stable, competitive source of workers' compensation insurance, and help prevent on-the-job injuries and illnesses.
We take pride in the benefits we provide to our employees to help them excel in their careers and contribute to their well-being, which in turn helps them deliver better customer service.
TXM for Texas
We're continuing to make a difference in the state, and we're grateful for our policyholder, agent and community partnerships that help us make an impact. Giving back to our communities is an important part of our culture. Together we volunteered more than 4,500 hours, which surpasses our 2017 volunteer hours by 1,300 hours. Additionally, our employees raised over $265,000 in our fundraisers for United Way, the American Heart Association and the MS 150.
We partner with ten colleges across the state to offer free or discounted safety and health courses in their communities. We're proud to see these schools help further our mission to build a stronger, safer Texas.
This year, we also announced a $100,000 grant for Construction Career Collaborative (C3) to strengthen the trade workforce in the Greater Houston region.
We're proud of our efforts year after year and honored when it is recognized in our communities. Our Vice President of Marketing and Customer Engagement Jeremiah Bentley received the Austin Chamber of Commerce Volunteer of the Year Award, and the company received the chamber's Greater Austin Business Award for Community Relations.
Leadership achievements
We know that strong leadership leads to a strong company. This year, our Chief Financial Officer Mike Barron was recognized as a Best CFO by the Austin Business Journal for his outstanding oversight of Texas Mutual's financial, administrative and strategic planning. Our Chief Operating Officer Jeanette Ward was honored as a Business Insurance Woman to Watch and named to the Insurance Business Hot 100 for 2019. Vice President of Safety Service Eric Bourquin was also recognized on the 2019 Hot 100 list.
20 years of dividends
This year, we paid a record-breaking $280 million in dividends to more than 50,000 policyholders in our 20th year of the dividend program. This milestone has been made possible because of our policyholders who continue to choose Texas Mutual and make safety a priority. It's just one way that year after year, ownership pays at Texas Mutual.
A and a+ ratings from A.M. Best
Our financial strength rating was reaffirmed as an "A" by A.M. Best, and our issuer credit rating was upgraded from an "a" to an "a+," representing our commitment to our policyholders. A.M. Best is the industry standard for rating insurance providers, giving consumers and agents an unbiased representation of a company's reliability and credibility.
New headquarters
In October 2018, we moved our corporate headquarters and Austin Regional Office to a new location at 2200 Aldrich Street in the Mueller community in Austin. Our building features more spaces for employees to collaborate, train and work, which allows us to better serve our customers.
Customer experience enhancements
We're committed to improving the customer experience to make workers' compensation work for our agents and policyholders. Based on feedback, we've debuted new features that improve our online systems. We've shared news of recent enhancements on the blog and we'll continue to keep you informed of what's to come.
Our Driving Concern
We know that when we ask our policyholders to be safe on the road, we must uphold the same commitment with our own employees. Our efforts to keep our employees safe on the road was recognized by the National Safety Council, in partnership with the Texas Department of Transportation, in its Texas Employer Traffic Safety Awards. We're proud to be one of 10 companies recognized for demonstrating the highest standard of traffic and driving safety.
Fighting fraud
Our internal fraud team works hard to protect our policyholders from those who take advantage of the system. This year, we've delivered on that commitment with more than five fraud convictions.
Safety Summits
In 2018, we visited four cities across the state with our Work Safe, Texas Summit, a free workplace safety conference for local businesses. Our traveling seminar features a panel discussion, OSHA presentation, demonstration of Safety in a Box and Q&A with safety experts. We're looking forward to visiting four new cities in 2019 starting with Midland in February.
Looking ahead
Each year, we work hard to build on our foundation to make the experience of doing business with us even better. We'll continue to deliver on our commitment to our policyholders, agents and employees in 2019, and keep you informed of how we are making that happen.
Thank you to our policyholders and agents who contribute to our success. We're grateful for your partnership in building a stronger, safer Texas.