February 28, 2019
Texas Mutual's welcome campaign for new policyholders allows us to provide the right information at the right time, and help them make the most of their workers' compensation coverage.
Take a look below for more details about what your clients can expect.
What this means for your clients
What will my clients receive?
New Texas Mutual policyholders will receive a Welcome to Texas Mutual email when their policy is bound with us. This email, which will come from DoNotReply@texasmutual.com, will guide them through creating an account on texasmutual.com.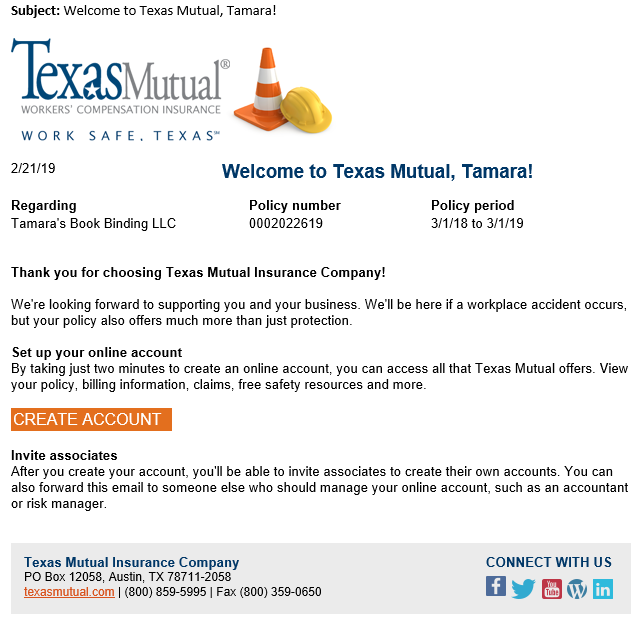 They will receive up to two reminder emails encouraging them to complete their registration (one per week), if they have not already done so. After three weeks, we will not send them further emails about setting up their Texas Mutual Online account.
Whether they set up an account or not, we will send them future emails with helpful pieces of information. The first of these informational emails is a Get Started Guide, which includes our one-page guide to Texas Mutual. Emails two and three show them how to report an injury and how to find a medical provider. We will continue to add informational emails that are helpful for new policyholders over time.
How often will my clients receive emails from Texas Mutual?
The standard frequency for the first month after coverage is bound is once per week. After the first month, informational onboarding emails will be sent every other week.
Will renewing policyholders receive this email?
Onboarding for renewing policyholders is not part of this initial roll out but is something that we will work on for the future. Also, if a new policy is bound, but the policyholder email address is already stored in our systems (because they are a former policyholder or because a policy has been canceled and rewritten) then the individual will not receive these onboarding emails. If an agent enters their own email address in the policyholder email field, but already has a TMO account, they will not receive the onboarding emails.
What this means for you as an agent
How will this help me as an agent?
The onboarding experience will guide them through their account set up on texasmutual.com where they can access loss runs, policy information, claim data and more. Once their account is set up, they will receive a Get Started Guide via email, which will give them details on workers' compensation, doing business with us, free resources and more. This saves you time, and helps your client better understand workers' comp.
Do I have to provide my client's email address?
While it is not required for you to provide an email address to us, we encourage you to enter an accurate one in the quote submission so that your client is included in the onboarding experience. Please note that if coverage is not bound, they will never receive emails from us for onboarding or otherwise.
What do I need to do?
Simply provide us with an accurate email address for your clients so that they can be included in the onboarding experience, and then we will automatically send them helpful information.
What your clients will need to do
What will my clients need to do when they receive the first email?
They will need to click on the link in the email that says "create account." It will take them to texasmutual.com and guide them through the easy, improved process to create an account. Their policy number will be automatically filled in, and they will be asked to enter the following information:
FEIN
First name, last name
Phone number
Email
Role
Password and security information
They can also invite their colleagues to create an account by forwarding the welcome email, or they will have the option to invite colleagues during the account set up process.
What features will my clients have access to on texasmutual.com?
Default account access includes billing and payment, injury reporting, e-Learning and Document Center. Policyholders can add additional features such as view policy, payroll reporting, manage claims and loss runs, and dividends inquiry. Policyholders can manage their account access and invite additional users to the account by logging into TMO. They will also receive regular updates of the users associated with their account. This is the same way the existing account set up works.
Can they invite colleagues to set up accounts?
Yes. The email gives them instructions on forwarding and sharing with colleagues who also need login access on texasmutual.com. They are also invited to do so after setting up an account.
Questions and next steps
What if my clients have questions?
Our phone number, (800) 859-5995, is included in the email and set up process, and you or your client can call us if they need assistance.
What's next?
We'll be adding to this onboarding experience with future emails about keeping their business safe, controlling their costs, managing claims, and more.
Thank you for your support and helping us make workers' comp work for our shared clients. If you have any questions, contact the Information Services Support Center at (800) 859-5995.