July 31, 2019
As a service to our policyholders, Texas Mutual shares common workplace injuries reported to our claims department. Our goal is to help you ensure these types of incidents do not happen in your workplace. Find tips and suggested e-Learning courses below to help keep your employees safe on the job.
If you have questions, we encourage you to call our safety services support center at 844-WORKSAFE (967-5723) between 8 a.m. and 5 p.m. CST.
Falls from roofs
An employee was using a personal fall arrest system while on a rooftop repairing shingles. He unhooked his harness to reposition himself and fell to the ground. Another employee was removing a roof when he stepped on a broken piece of material and fell through.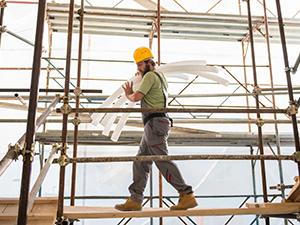 The Occupational Safety and Health Administration (OSHA) requires that employers provide fall protection when construction workers are six feet or more above a lower level. Although requirements may differ for certain jobs, general fall protection should be in the form of guardrails, safety nets or personal fall arrest systems. Employees also have a responsibility to follow proper procedures and safety guidelines.
Safety tips:
Wear required personal protective equipment at all times including fall protection, hard hats, gloves and steel toed boots.

Only enter and exit the rooftop from designated access points.

When using a personal fall arrest system, immediately tie-off to the anchorage point when getting to the rooftop and do not detach until you're leaving the rooftop.

Always inspect fall protection equipment prior to each use and alert a supervisor of any damage or defects.
e-Learning course suggestions:
Fall Prevention/Protection
Floor/Walkway Safety
Slip, Trip and Fall Prevention & Inspection
Construction incidents increase
Serious claims in the construction industry have been steadily increasing since the end of winter. Injury causes range from motor vehicle crashes to heat illness. As the amount of construction projects, roadway traffic and temporary workers increases, employers need to ensure that new employee orientation and ongoing safety meetings are scheduled and thorough. To help prevent construction incidents, employees also need to make sure that they're following protocol and not taking shortcuts.
Safety tips:
Never assume that other drivers will follow the rules of the road; stay alert and aware of your surroundings.

Don't take shortcuts with safety, even when the project is being rushed. This means taking the time to conduct pre-trip inspections and jobsite safety analyses.

If personal protective equipment or machine guards are hindering your work, let a supervisor know and work with them to find a proper solution.

When working from heights, always tie-off or ensure there are other protective systems installed such as guardrails or safety nets.

When working outdoors or in hot environments, drink water throughout the day and take breaks in cool, shady areas when available.
e-Learning course suggestions:
Alert Driving
Personal Protective Equipment
Heat Stress Symptoms & Prevention
Get free safety resources
Texas Mutual policyholders have access to thousands of free training materials in our multimedia safety resource center, including 400 free e-Learning online training courses. With e-Learning, you can assign safety courses to your employees to help train them and keep them safe.
To access the free materials, log in to your texasmutual.com account and select safety resources. If you need helping accessing the safety resource center or you have a workplace safety question, call us toll-free at 844-WORKSAFE (967-5723).
Download a PDF version of the 2019 July Safety Alert.