October 31, 2019
Texas Mutual makes $100,000 donation to Communities Foundation of Texas for Dallas tornado recovery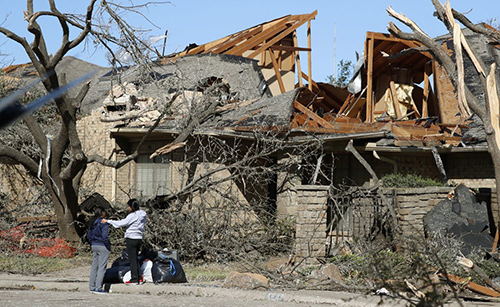 (AP Photo/LM Otero)
On Sunday, October 22, severe weather devastated the Dallas community. As the leading workers' compensation provider in Texas, we are committed to supporting the resiliency of our state and lending a helping hand after a natural disaster strikes.
In response to the tornadoes that moved through the Dallas area, Texas Mutual will donate $100,000 to Communities Foundation of Texas (CFT), the state's largest community foundation. The donation will support CFT's Dallas Tornado Recovery and Relief Fund as they assist long-term recovery efforts in North Texas communities. CFT is a trusted partner that shares our community values.
Since its founding in 1953, CFT has awarded $1.9 billion in grants, locally and across the state. The foundation partners with thousands of nonprofits and makes more than 3,000 grants each year to support the North Texas region.
In addition to the donation to CFT, Texas Mutual will distribute grants to policyholders in need. We invite our policyholders who have sustained significant damage to their business to apply for a grant of up to $10,000. Please contact our safety services team at reliefgrants@texasmutual.com or 844-WORKSAFE (967-5723).
Disaster response and preparedness is a core pillar of our community program, TXM for Texas. That's why we are committed to helping in times of need and responding quickly when our state is impacted by natural disasters. We've provided support to Texans through our Tropical Storm Imelda relief grants, Hurricane Harvey relief grants as well as donations to the Red Cross and Catholic Charities to assist Central Texas flood relief in 2018.