October 29, 2019
As a service to our policyholders, Texas Mutual shares common workplace injuries reported to our claims department. Our goal is to help you ensure these types of incidents do not happen in your workplace. Find tips and suggested e-Learning courses below to help keep your employees safe on the job.
If you have questions, we encourage you to call our safety services support center at 844-WORKSAFE (967-5723) between 8 a.m. and 5 p.m. CST.
Housekeeping challenges lead to slips, trips and falls
An employee was moving furniture, when he slipped on a trash bag on the ground and suffered a head injury. In another incident, an employee was stepping out of a forklift, slipped in a puddle of water and fell. These seemingly minor incidents resulted in painful injuries. Slips, trips and falls are one of the most common causes of injury and can happen at any workplace.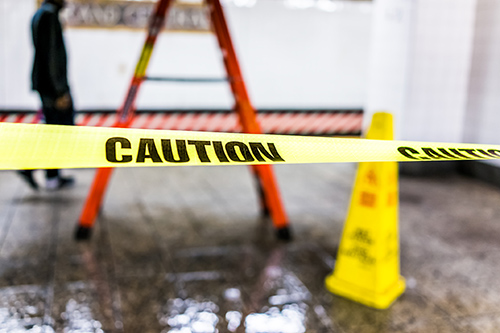 Safety tips:
Before work, conduct a hazard inspection of the area and clean up any spills, debris, equipment or materials that could cause a slip, trip or fall.

Clean up debris and other materials throughout the day, instead of waiting until the end of the shift.

When possible, keep tools and equipment on a bench or counter so they're off the floor and closer to eye level.

Place non-slip mats in areas that have a greater potential of getting wet (such as doorways or near sinks) and mark spills with signage or barricades until they can be cleaned up.
e-Learning course suggestions:
Industrial Housekeeping
Basic Safety & Health
Warehouse/Loading Dock Safety
Employees are injured after contact with energized sources
A lineman was setting up a new electric pole and made contact with both the copper ground wire and an energized line. In a second, unrelated incident, an employee was working to remove a panel box and received an electrical shock. Electrical work is highly specialized so you should never perform the work unless you have been trained and certified to do so. If you have been trained, follow safety procedures at all times.
Safety tips:
When working around energized lines, wear non-conductive clothing and required personal protective equipment, including insulated rubber gloves.

Never touch electrical lines or equipment in wet conditions.

Do not leave electrical contacts or conductors exposed.

Before beginning a job task, plan out an escape path in case of any unexpected hazards.

If you're working from heights, make sure you are on stable ground and have adequate fall protection when using a lift.
e-Learning course suggestions:
Arc Flash Safety
Electrical Safety General Awareness
NFPA 70e Intro
Hand Tools - Electrical Work
Get free safety resources
Texas Mutual policyholders have access to thousands of free training materials in our multimedia safety resource center, including 400 free e-Learning online training courses. With e-Learning, you can assign safety courses to your employees to help train them and keep them safe.
To access the free materials, log in to your Texas Mutual Online account and select safety resources. If you need helping accessing the safety resource center or you have a workplace safety question, call us toll-free at 844-WORKSAFE (967-5723).
Download a PDF version of the 2019 October Safety Alert.