December 9, 2019
$1.1 million delivered to support workforce development initiatives across the state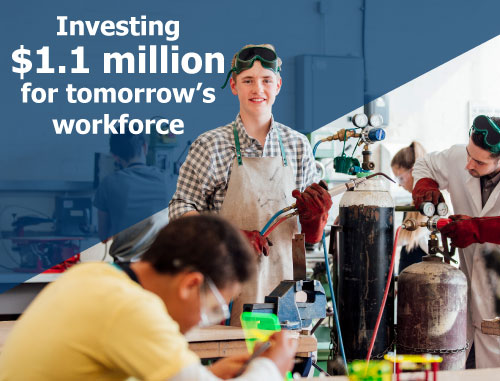 Texas will need to add nearly 8 million jobs by 2036 to support economic growth. As the state's leading workers' comp provider, we see the critical need to help employers build a stronger workforce for the future. Because of this need, we're proud to share that we have distributed $1.1 million in grants to 16 organizations who are creating pathways to in-demand career training.
Through these strategic partnerships, we're able to deliver impactful workforce development initiatives that benefit local communities and the state's workforce. By working together, we are strengthening job-skill training, influencing statewide change and empowering community collaboration.
Learn more about how these funds have been distributed:
Strengthening job-skill training
We delivered $501,657 in grants to help remove barriers for students pursuing in-demand jobs, and ensure that underserved populations have access to education.
Adaptive Construction Solutions in Houston: $100,000 to support apprenticeship programs and a training facility for youth, underrepresented populations and veterans.
Bryan Independent School District (ISD): $32,000 for safety equipment and training at the Career & Technical Education Complex to benefit Bryan High School students.
Conroe ISD: $65,126 for safety training and personal protection equipment for the district's career and technical education program.
Laredo College: $25,000 for student scholarships to fund workforce licensure exam fees.
Laredo ISD: $25,000 for training equipment, technology and administrative costs to support students receiving industry-based certifications from the J.W. Nixon Business, Industry and Public Services (BIPS) Early College Academy.
Lubbock Economic Development Alliance: $72,610 for the South Plains High Demand Training Program, which provides occupational training to prepare high school students for in-demand occupations.
Texans Can Academies in Dallas: $25,000 to cover the cost of OSHA 30-hour training courses for students, most of whom left high school before graduating and are living below the poverty line.
Texas Restaurant Association Education Foundation (statewide): $30,000 for culinary and restaurant management training for future and existing restaurant employees.
TRIO Electric in Houston: $51,920 to purchase safety equipment for pre-apprenticeship programs for high school students across Texas.
The Wilkinson Center in Dallas: $75,000 for the Working Families Success program to benefit low-income working residents of Southern Dallas.
Influencing statewide change
We distributed $300,000 to two organizations as part of our effort to influence systemic change in the state. Through these partnerships, we're helping key organizations expand their reach in support of our shared goals.
Advance Together, a program of the Federal Reserve Bank of Dallas (statewide): $150,000 to accelerate community-driven, cross-sector partnerships in Texas that focus on workforce development and educational attainment.
Educate Texas (statewide): $150,000 to improve the public education system so that every Texas student is prepared for success in school, in the workforce and in life.
Empowering community collaboration
We distributed $250,000 to help strengthen the educational pipeline through collaboration of education, business and civic leaders. Cross-sector collaboratives help connect organizations with similar goals to solve the unique needs of their communities.
El Paso Collaborative for Academic Excellence: $25,000 workforce readiness grant to ensure the academic success of young El Pasoans.
RGV Focus in the Rio Grande Valley: $25,000 to support college readiness, access and success in the Rio Grande Valley.
SA Works in San Antonio: $100,000 to help dispel the misperceptions of working in the manufacturing industry in the San Antonio region.
Workforce Solutions Capital Area in Austin: $100,000 to help address short-term talent pipeline needs and support long-term workforce development initiatives.
As a policyholder-owned company, we believe deeply in equipping the workers of today and empowering the workforce of tomorrow so that employers across Texas can experience economic growth. This $1.1 million distribution is in addition to Texas Mutual's other workforce development initiatives including $1.1 million in college safety grants, $1.5 million in policyholder safety grants and more.
We're proud of our work that helps to fortify Texas businesses for the future and make our state stronger, and we're grateful for those who partner with us in this effort. Learn more about our community giving.