March 27, 2020
As a service to our policyholders, Texas Mutual shares common workplace injuries reported to our claims department. Our goal is to help you ensure these types of incidents do not happen in your workplace. Find tips and suggested e-Learning courses below to help keep your employees safe on the job. To access the e-Learning courses, policyholders can log in to their texasmutual.com account and then use the new links below.
If you have questions, we encourage you to call our safety services support center at 844-WORKSAFE (967-5723) between 8 a.m. and 5 p.m. CST.
Preventing the spread of COVID-19
The Centers for Disease Control and Prevention (CDC), World Health Organization (WHO) and the general public are keeping an eye on the respiratory disease known as the coronavirus or COVID-19. On March 11, WHO characterized the disease as a pandemic. Like other illnesses, COVID-19 could potentially spread in the workplace. Health organizations are recommending several precautions.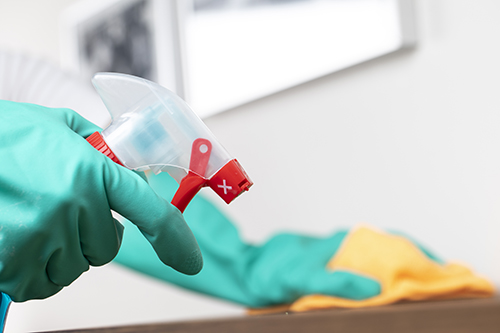 Safety tips:
Limit any non-essential personal and work travel.

Practice social distancing by avoiding congregate settings and maintaining a minimum distance of 6 feet from others.

Stay home as much as possible and for at least two weeks when you or a household member is sick or suspect exposure to COVID-19.

Disinfect all frequently touched objects and surfaces on a regular basis.
Wash your hands thoroughly before and after eating, after using the restroom and throughout the day.
Avoid touching your eyes, nose and mouth with unwashed hands.
e-Learning course suggestions:
Hand Wash & Hygiene
Bloodborne Pathogens
View our Coronavirus Resources page for more information.
Employees fall from tractor trailers
In two separate incidents, employees fell off a tractor trailer while loading and unloading equipment. The first incident involved an employee who was trying to secure a load from the trailer's attached ladder. In the second incident, an employee was unloading heavy machinery, which began leaning. Both employees fell to the ground and sustained serious injuries.
Safety tips:
Before loading or unloading, make sure the vehicle and/or trailer is on stable, level ground and is secured in place.

Abide by the weight limits of your trailer and tie-downs.

When using any type of ladder, maintain three points of contact at all times (one hand and two feet or two hands and one foot).

Prior to unloading heavy machinery from a trailer, perform an inspection to make sure that the load hasn't shifted.
e-Learning course suggestions:
Block/Cribbing Heavy Equip
Portable Loading Ramps
Warehouse/Load Dock Safety
Get free safety resources
Texas Mutual policyholders have access to thousands of free training materials in our multimedia safety resource center, including 400 free e-Learning online training courses. With e-Learning, you can assign safety courses to your employees to help train them and keep them safe.
To access the free materials, log in to your texasmutual.com account and select Safety Resources. If you need helping accessing the safety resource center or you have a workplace safety question, call us toll-free at 844-WORKSAFE (967-5723).
Download a PDF version of the 2020 March Safety Alert.