May 27, 2020
As a service to our policyholders, Texas Mutual shares common workplace injuries reported to our claims department. Our goal is to help you ensure these types of incidents do not happen in your workplace. Find tips and suggested e-Learning courses below to help keep your employees safe on the job. To access the e-Learning courses, policyholders can log in to their texasmutual.com account and then use the new links below.
If you have questions, we encourage you to call our safety services support center at 844-WORKSAFE (967-5723) between 8 a.m. and 5 p.m. CST.
Aerial work platform incidents
Aerial work platforms can include a variety of equipment such as boom lifts, scissor lifts or cherry pickers. These are great tools for allowing employees to work at heights but also come with serious hazards.

In one incident, an employee was in a boom lift that struck a power line causing a fire. He jumped out of the lift and made contact with the power line. In another incident an employee fell from a scissor lift about 30 feet in the air.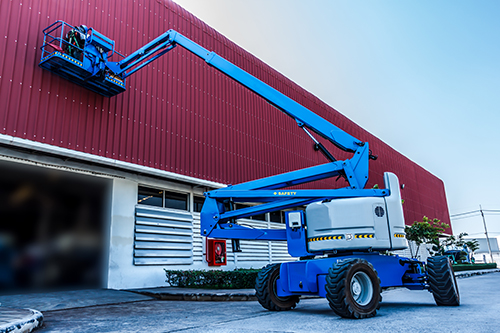 Safety tips:
Before use, inspect any guardrails and personal fall arrest systems for damage or wear and tear.

Do not use aerial work platforms in windy conditions or on uneven or slippery surfaces.

Keep the equipment at least 10 feet away from energized lines.

Set the equipment brake, wheel chocks and/or outriggers before beginning work.

Avoid climbing on or leaning over the guardrails and keep your lanyard attached to the boom or bucket (when personal fall arrest systems are required).
e-Learning course suggestions:
Electrical safety general awareness
Underground maintenance leads to injuries
Employees were in the process of removing an underground power line, when it exploded and crew members sustained electrical burns. In a separate incident, a crew was working on a water line when a pipe burst striking one of the employees.


Safety tips:
Before digging, call 811 to confirm line, pipe and utility placement and mark the ground accordingly.

Do not perform work until the designated competent person has conducted a hazard inspection of the area and determined the proper protective systems to be used.

Inspect the pipe or line for any damage before performing maintenance.

Utilize hand digging at an angle once the tolerance zone has been reached.

If a natural gas or electrical line is struck, stop work and call 911.
e-Learning course suggestions:
Get free safety resources
Texas Mutual policyholders have access to thousands of free training materials in our multimedia safety resource center, including 400 free e-Learning online training courses. With e-Learning, you can assign safety courses to your employees to help train them and keep them safe.
To access the free materials, log in to your texasmutual.com account and select Safety Resources. If you need helping accessing the safety resource center or you have a workplace safety question, call us toll-free at 844-WORKSAFE (967-5723).
Download a PDF version of the 2020 May Safety Alert.