December 9, 2021
Texas Mutual partners with The National Alliance to support students pursuing a career in insurance and risk management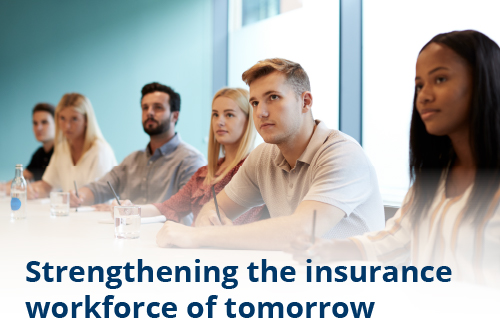 The National Association of Mutual Insurance Companies (NAMIC) predicts that over the next 15 years, 50% of the insurance industry's workforce will retire, leaving over 400,000 positions unfilled. At Texas Mutual, we recognize the need to help address this workforce shift and recruit the future of our industry. That's why we've partnered with The National Alliance for Insurance Education & Research in support of their Certified Insurance Service Representatives (CISR) High School Program.
The CISR program promotes insurance and risk management careers to young and diverse talent. Through Texas Mutual's partnership with The National Alliance, agents can support the workforce by hiring interns, volunteering as guest speakers, hosting industry events and more.
What is The National Alliance?
With over 50 years of experience in insurance education and research and more than 125,000 members, The National Alliance provides educational programs of every level for risk and insurance professionals. As the largest insurance education provider in the world, The National Alliance is a nationally recognized resource for opportunities in continuing education, designations and industry research.
What is CISR High School Program?
The National Alliance's CISR High School Program is the first of its kind and prepares students to pursue careers in insurance and risk management. In partnership with public and private schools across the state, students receive three semesters of industry-based learning and certifications in a variety of areas including business basics and ethics, workers' compensation, service and selling, and more. Upon completion of the Texas Education Agency (TEA)-approved program, students earn a CISR student certification, equipping them with a high-demand, high-wage designation. Students receive college credit if they want to pursue higher education after graduation and they can also gain real-world experience through a mentor-led, paid internship opportunity with an agency partner.
Texas Mutual partners with over 11,000 agents across the state and is inviting these partners to hire interns beginning January 2022. These paid internships take place during the last semester of students' senior year. Throughout the semester students will learn more about service and selling, receive virtual coaching and participate in internship-related activities provided by The National Alliance's internship toolkit. Mentor responsibilities include scheduling weekly check-in meetings with interns to discuss toolkit topics, evaluating an intern's progress, providing interns with feedback and opportunities for improvement and helping interns apply what they've learned in the classroom to the real-world.
How do I hire interns?
Currently, there are several Texas school districts in the Dallas-Fort Worth and Houston areas, listed below, in need of paid internship opportunities for between 1 to 15 students. Internships would begin in January 2022 for the spring semester. If you or your agency are interested in hiring an intern, please contact Bob Rogers, CLU, ChFC, The National Alliance academic director and industry partner liaison, at (832) 741-1567 or brogers@scic.com.
DFW area

Duncanville ISD
Grand Prairie ISD
Irving ISD
Lake Worth ISD

Houston area
Are there more ways I can participate?
With several campuses across the state with active CISR programs, there are numerous ways you can play an active role in addressing this critical need in our industry while also empowering students for an in-demand career in insurance and risk management. Opportunities include:
Participating as a guest speaker at a CISR campus
Serving as a member of an industry panel
Attending CISR high school college and career fairs
Volunteering as a virtual coach
Hosting an industry event or Outbound Career Experience
Sponsoring a site license fee
Providing resources or materials to help promote the industry to students
Sponsoring a meal for students at an industry event
Providing transportation for students
Participating in teacher training or conferences
Agents interested in volunteering as a guest speaker, serving as a panel member or participating in an event can contact, Russell VanHoose, M.Ed., The National Alliance learning experience designer, at (512) 349-3341 or rvanhoose@scic.com. If you're interested in virtual coaching, mentoring, hosting an event or participating in an activity, contact Jaime Morgan, Ph.D., CISR High School Program account specialist, at jmorgan@scic.com.
The Texas school districts with active programs include:
Alief ISD
Austin ISD
Dallas ISD
Duncanville ISD
Grand Prairie ISD
Irving ISD
Lake Worth ISD
Laredo ISD
Northwest ISD
Pflugerville ISD
As we look toward the future of our industry, we're proud to partner with The National Alliance to help equip Texas students with the skills and knowledge to pursue careers in the insurance industry while also helping to build the workforce of tomorrow. We encourage our agent partners to join us in addressing this critical need and help future generations join our rewarding industry.