June is National Safety Month. As the state's number one workers' comp provider, Texas Mutual is committed to raising awareness about accident prevention and helping employers protect their people on the job.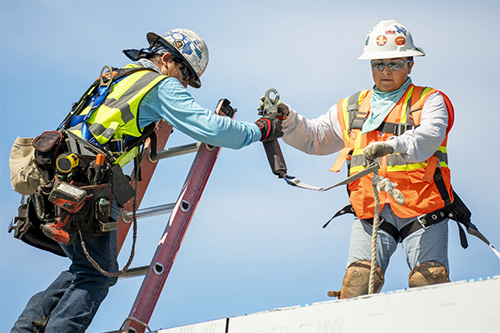 For Texas businesses, no issue is more important than safety. In 2019, 5,333 U.S. workers were killed on the job and 2.8 million were injured. Even minor injuries reduce productivity and significantly increase the cost of doing business, which is why preventing workplace accidents is a priority for employers across the state.
At Texas Mutual, our safety resources help policyholders protect their workers and their businesses. Policyholders have year-round access to a wide range of training materials, including Toolbox Talks, a monthly guide featuring prepared information that can be covered in your employee safety meeting. Each Toolbox Talk provides facts about accident risks along with follow-up questions to be answered by employees. During National Safety Month, we're making selected Toolbox Talks (in English and Spanish) available to all businesses as part of our commitment to building a stronger, safer Texas.
Toolbox Talks
Make these discussion guides part of your employee safety program during National Safety Month.
Driving For Success - English (PDF)
Driving For Success - Spanish (PDF)
A helpful guide providing safety tips and information for drivers.
Preventing Same Level Falls - English (PDF)
Preventing Same Level Falls - Spanish (PDF)
A guide focusing on preventing same level falls in the construction industry.
At Texas Mutual, our team of experienced professionals can help you get your people home safely every day. Accident prevention is just one of the many ways we're changing the way workers' comp works for you. To learn more about workers' comp and find additional safety resources available to Texas Mutual policyholders, visit our workers' comp basics page.