July 8, 2019
At Texas Mutual we work with 7,000 agents who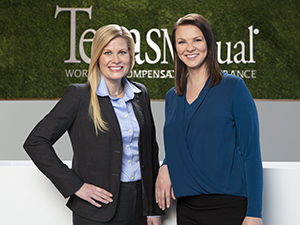 help us serve over 70,000 businesses and 1.5 million workers across the state. Because of our deep relationships with a vast network of agents, we understand the vital role they play in the workers' compensation system. Texas Mutual places an emphasis on maintaining and developing meaningful relationships built on trust and collaboration. This approach allows us to work closely with our agents and continue working with your clients year after year.
Our strong agency-partner alliances foster real relationships like the one between Stephanie Dew, vice president of WinStar Insurance Group, and Courtney Palmer, senior underwriter at Texas Mutual.
Stephanie and Courtney aren't just an agent and underwriter who work together, they're people who know each other. So much so, that Courtney has become part of the WinStar family and has taken part in their Christmas party as well as a baby shower in her honor.
Responsive partnerships
When it comes to discussing their customers, situations and claims, Courtney and Stephanie have a shared purpose and know they can always work together. Courtney understands how much we depend on our agents and how much they depend on us, so her experience and knowledge of the agency is fundamental to this collaborative relationship. This sense of partnership is what makes our agent-underwriter alliances so effective, as business partners and for customer satisfaction and retention.
Supporting our policyholders and the agent community is embedded in our culture at Texas Mutual. This agent-underwriter story highlights the reason why we train and encourage our employees to form collaborative partnerships.
Our commitment to you
Texas Mutual also provides agents with training and educational resources like webinars, microlearning, videos, newsletters and events to help you better serve your clients and make it easy to do business with us.
To further our commitment with independent agents, we also partner with the Independent Insurance Agents of Texas (IIAT). Through this strategic partnership, we're helping workers' comp agents succeed by offering more educational opportunities and content.
Whether it's forming partnerships with organizations like IIAT or training our employees, we are proud to serve as a trusted partner. Thank you to our agents who contribute to Texas Mutual's success and help us in our mission to build a stronger, safer Texas.