November 8, 2023
2023 workforce development and safety training grant recipients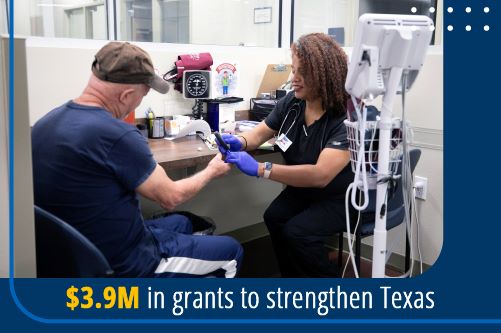 Texas Mutual has awarded $3.9 million to 57 nonprofit organizations in an effort to fortify businesses and strengthen the state's economy. Grants were provided through our Request for Proposal (RFP) initiative focused on workforce development and safety training. Texas nonprofits were invited to apply between August 21 and September 29. Grant recipients are focused on the following:
Training the current and future skilled workforce in safe work practices, especially in industries or occupations at higher risk for workplace accidents
Creating strong pathways for in-demand middle-skill jobs
Upskilling and reskilling adult learners using earn-and-learn initiatives
During the month of October, Texas Mutual conducted an extensive review process, which included training 60 Texas Mutual employee volunteers to review grant applications based on several criteria, including evaluating organizations for their work in upskilling, apprenticeships and safety training programs as well as their overall alignment with our commitment to building a stronger, safer Texas. Our community affairs team also focused on ensuring funding was distributed across the state and supported underserved communities.
See the full list of recipients below:
Central Texas
American YouthWorks (Austin)
Austin Voices for Education and Youth
Best Buddies in Texas (Austin)
Capital IDEA (Austin)
Code2College (Pflugerville)
Del Valle Independent School District
Goodwill Central Texas
Lone Star Justice Alliance (Austin)
Skillpoint Alliance (Austin)
Smithville Workforce Training Center
The Georgetown Project
The Other Ones Foundation (Austin)
The TSTC Foundation (Waco)
Wayside Schools (Austin)
Workforce Solutions Capital Area (Austin)
East Texas
Gateway Community Partners, Inc (Jacksonville)
Goodwill Industries of East Texas, Inc.
North Texas
Aspire (Dallas)
Café Momentum (Dallas)
Cristo Rey Fort Worth High School
Goodwill North Central Texas
Helping Restore Ability (Arlington)
Inspiring Tomorrow's Leaders (Dallas)
Journey to Dream Foundation (Lewisville)
Lighthouse for the Blind of Fort Worth
ScholarShot (Dallas)
The Women's Center of Tarrant County
United Way of Metropolitan Dallas
Wilkinson Center (Dallas)
South Texas
Education to Employment Partners (Corpus Christi)
Family Service (San Antonio)
Mission Road Developmental Center (San Antonio)
National Veterans Outreach Program (San Antonio)
Restore Education (San Antonio)
SA Youth (San Antonio)
South Texas College
Texas A&M Corpus Christi Foundation
Valley Initiative for Development and Advancement (VIDA) (Mercedes)
Southeast Texas
Boys & Girls Clubs of Greater Houston
Connect Community (Houston)
Houston Community College Foundation
Lamar Institute of Technology (Houston)
Memorial Assistance Ministries (Houston)
PTSD Foundation of America (Houston)
SERJobs (Houston)
The H.E.A.R.T. Program (Houston)
Statewide
Girlstart
NextOp
NPower
Texas Restaurant Foundation
The National Alliance for Insurance Education & Research
TRIO Education
West Texas
Covenant Health Foundation (Lubbock)
El Pasoans Fighting Hunger Food Bank
Goodwill Industries of Northwest Texas
Lubbock Chamber of Commerce Foundation
Paso del Norte Community Foundation (El Paso)
The workforce development and safety training grant was the second of two RFP initiatives this year. In July, we awarded $4.1 million to 62 organizations during our generational learning grant cycle to support working families. With both grant initiatives, we've awarded over $8 million to support Texas communities, businesses and families. We've been caring for Texas for over 30 years and are committed to continue leveraging our resources and strong partnerships to ensure meaningful change and stronger, more resilient communities.
Learn more about these RFP initiatives at texasmutual.com/communityfunding and read the full press release here.