August 13, 2020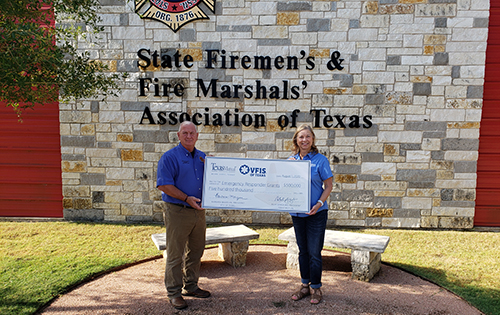 Across the state, first responders are taking care of Texans each and every day. We recognize their dedication to protecting and strengthening our communities, especially during these unprecedented times. Since 2013, we've partnered with Volunteer Firemen's Insurance Services of Texas (VFIS of Texas) to provide need-based grants to volunteer first responders and nonprofit emergency service organizations. This year, together with VFIS, we are awarding a total of $500,000 through two separate grant programs. $200,000 is designated for a financial relief grant program to help provide funding assistance to EMS organizations affected by the COVID-19 pandemic and $300,000 will support these organizations in investing in their team's health and wellness.
Grant applications for a financial relief grant ($2,500 per organization) opened August 10, and due to an overwhelming response, closed within the first two hours of opening. This new grant program was created to assist in the financial recovery of EMS organizations affected by the COVID-19 pandemic. During this time, many EMS organizations are facing critical funding needs because they are not able to conduct their traditional fundraisers. These grants will not be restricted to a specific use other than to provide much-needed funding to the organization.
Applications for health and wellness grants will be open from September 1 through December 31 and grants will be awarded the first quarter of 2021. See how these health and wellness grants have helped past recipients, Tanglewood Volunteer Fire Department and Johnson County Emergency Support Services.
Texas Mutual and VFIS of Texas partner with the State Firefighters' & Fire Marshals' Association of Texas to manage the application process and select grant recipients. For more information about the grants, visit VFIS Financial Relief Grant and VFIS Health and Wellness Grant.
We're proud to partner with VFIS of Texas to help support emergency service organizations throughout Texas during this critical time.