July 28, 2021
Texas Mutual is recognized as a top property-casualty insurer for ninth consecutive year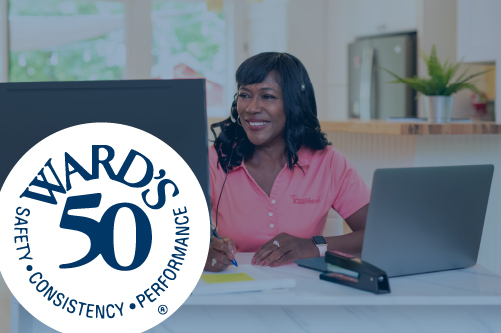 For the ninth year in a row, Texas Mutual has been recognized as one of Ward's 50 best performing property-casualty insurers in the U.S. As the leading provider of workers' compensation insurance in Texas, this recognition affirms our financial strength and stability as well as our commitment to providing best-in-class service to our policyholders, agents and business partners.
Each year, Aon, a global professional services firm for risk, retirement and health solutions, releases the list of Ward's 50 top performing property-casualty insurers out of nearly 2,900 companies across the nation. Ward is the leading provider of benchmarking and best practice studies for the insurance industry.
In selecting Ward's 50, Aon identifies top performers who achieved superior performance over a five year period (2016-2020) and have passed safety and consistency benchmarks including, surplus and premiums of at least $50 million for each year analyzed, net income for at least four years and compound annual growth in premiums between -10% and +40%. Aon also evaluates the financial stability of companies and measures their potential to grow, while maintaining strong capital positions and underwriting results.
We're honored to have earned this recognition as a top tier carrier. Ward's 50 acknowledges our work in effectively managing our financial resources so we can stand strong with our customers even during challenging times. At Texas Mutual, we're driven by our commitment to taking care of Texans and continuing to be a stable source of workers' comp for businesses across the state. Thank you to over 72,000 policyholders and 9,000 agents for trusting us to be their preferred workers' comp partner.