August 3, 2021
Helping to cultivate resiliency and stability for working families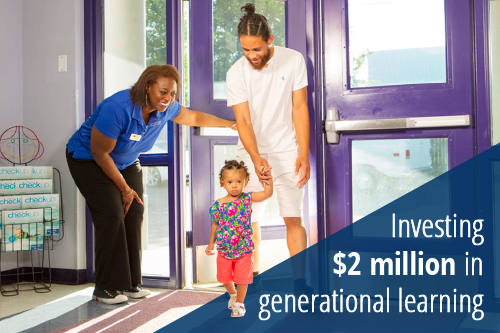 To help mitigate the generational impacts of COVID-19 on working families, Texas Mutual has awarded over $2 million in grants to 38 organizations in its first Request for Proposal (RFP) initiative. Nonprofits were invited to apply between May 3 and June 11, and after an extensive review process, Texas Mutual selected 38 organizations across the state which are doing critical work for Texans. These organizations were chosen for their efforts in:
Improving the health and wellness of Texas workers and their families by providing access to quality care and health education
Strengthening the early childhood education system by ensuring child care providers have the resources needed to deliver access to affordable, quality education for Texas families
Increasing equitable access to technology and broadband connectivity by focusing on adoption, use and expansion
See the full list of recipients below:
Alliance For Children (Fort Worth)
APM Outreach Inc. (League City)
Association for the Advancement of Mexican Americans (Houston)
Austin Ed Fund
Austin PBS, KLRU-TV
AVANCE (San Antonio)
Back on My Feet (Austin, Dallas and Houston)
Boys & Girls Club of Hill County (Hillsboro)
Boys & Girls Club of Greater Houston
Child and Family Guidance Center of Texoma
Child Care Associates (Fort Worth)
Day Nursery of Abilene Inc.
El Buen Samaritano (Austin)
El Paso Community Foundation
Imagine A Way (Leander)
Jewish Family Service of Greater Dallas, Inc.
Lone Star Circle of Care (Georgetown)
Longview ISD
LVTRise (Fort Worth)
Maverick Boys & Girls Club (Amarillo)
Meadows Mental Health Policy Institute (Dallas)
Mission of Mercy, Inc. (Corpus Christi)
Opportunity School (Amarillo)
Project Vida (El Paso)
Santa Maria Hostel (Houston)
Su Casa de Esperanza, Inc. (Pharr)
Texas 2036 (Dallas)
Texas CASA (Austin)
The Austin Center for Grief & Loss
Thinkery (Austin)
Todos Juntos Learning Center (Austin)
TORCH Foundation (Round Rock)
United Way for Greater Austin
United Way of Greater Houston
Upbring (Austin)
Wichita Falls Area Food Bank
YMCA of Austin
YWCA of Lubbock
Texas Mutual will distribute an additional $2 million to nonprofit organizations through its second RFP initiative. Applications will open at 8 a.m. CDT on Monday, August 30, and will close at 11:59 p.m. CDT on Friday, October 8.
In this second round, Texas Mutual will be investing in organizations and initiatives focused on the following:
Training the current and future skilled workforce in safe work practices, especially in industries or occupations at higher risk for workplace accidents
Creating strong pathways for in-demand, middle-skill jobs
Upskilling and reskilling adult learners using earn-and-learn initiatives
Learn more about these RFP initiatives at texasmutual.com/communityfunding.