December 6, 2021
Texas Mutual delivers grants to 44 organizations for workforce development and safety training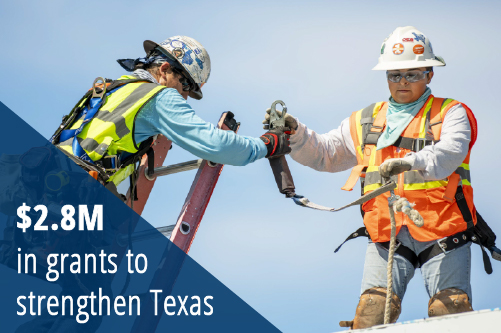 Texas Mutual is committed to the strength and safety of our state's workforce. To deliver on that commitment, the company has recently distributed $2.8 million in grants to 44 organizations. Nonprofits were invited to apply for our Request for Proposal (RFP) initiative focused on workforce development and safety training efforts between August 30 and October 8. After an extensive review process, Texas Mutual selected organizations across the state for their work to:
Train the current and future skilled workforce in safe work practices, especially in industries or occupations at higher risk for workplace accidents
Create strong pathways for in-demand middle-skill jobs
Upskill and reskill adult learners using earn-and-learn initiatives
See the full list of recipients below:
American Heart Association
Austin Area Urban League
Austin Chamber of Commerce
BakerRipley (Houston)
Best Buddies in Texas (Austin)
Café Momentum (Dallas)
Camp Fire First Texas (Fort Worth)
Capital IDEA (Austin)
Catholic Charities Fort Worth
Central Texas Allied Health Institute
Coalition of Health Services (Amarillo)
Community Family Centers (Houston)
Cristo Rey Dallas College Prep
Down Home Ranch (Elgin)
Easter Seals-Central Texas Inc.
Educate Texas (Dallas)
Friendswood ISD Education Foundation
Gateway Community Partners Inc. (Jacksonville)
Goodwill Central Texas
Greater Houston Partnership
Healing Hands Community Doula Project (Austin)
Hispanic Contractors Association de San Antonio Inc.
Lighthouse for the Blind (Fort Worth)
Literacy First (Austin)
Lubbock Chamber of Commerce Foundation
Mobile Loaves & Fishes Inc. (Austin)
NPower Texas (Dallas)
Prosper Waco
Regional Black Contractors CDC (Dallas)
Restore Education (San Antonio)
RGV FOCUS (Harlingen)
SERJobs (Houston)
South Dallas Employment Project
Star of Hope Mission (Houston)
Texans Can Academies (Dallas)
The Dallas Foundation
The Georgetown Project
The TSTC Foundation (Waco)
The Wilkinson Center (Dallas)
TRIO Education (Houston)
Unicorn Centers of Mission Road Developmental Center (San Antonio)
Valley Initiative for Development and Advancement (VIDA) (Mercedes)
Workforce Solutions Capital Area (Austin)
Year Up Inc. (Dallas)
As the leading provider of workers' compensation in the state, Texas Mutual is committed to the health and safety of all Texans. This round of funding was the second RFP initiative from Texas Mutual in 2021. In August, the company awarded $2.2 million in grants to 38 organizations to help mitigate the impact of COVID-19 on working families. With these two RFP initiatives, Texas Mutual delivered close to $5 million in grants to cultivate resiliency and stability for working families and fortify businesses to strength the Texas economy. Visit our community page to learn more about the work we do in our communities and how we deliver on our commitment.