...
When Danny Vowell injured his arm, Texas Mutual gave him a hand.
Danny Vowell has a good life.
"I was born and raised right here in Fort Worth. I've got five beautiful children, I've got 17 grandchildren. I love my horses, I love my motorcycles, I love my lake house."
He's got a good job, too. Danny's been a truck driver for nearly 40 years, the last two with Basden Steel Corporation, a 35-year old manufacturing firm that provides steel fabrication and erection services for the construction industry. After fabrication, the building components are loaded onto large trucks and delivered to the worksite by drivers like Danny.
"My goal is to do my work in a safe manner and in a timely manner that's efficient for the company. I want to make sure I get home safe to my family and do the things I need to do for my job," he explained.
Unfortunately, bad things can happen even to good workers. On January 14, Danny suffered multiple injuries when he slipped while stepping off the truck.
"I reached up and grabbed a chain that was on the back of the truck and it spun me around and knocked me into the door, which bounced me off the truck and I landed on my shoulder," he said. "I had a torn rotator cuff, torn bicep and a hairline fracture on the collarbone."
In spite of the pain, Danny made his way to the office. That's when the company contacted Texas Mutual, Basden's workers' comp provider for the past 20 years. Mel Ropp was Danny's claims adjuster.
"I called him and said 'Gosh, I see you got hurt yesterday. How are you feeling?'" Mel said. "It was a real smooth conversation. We had a rapport right away."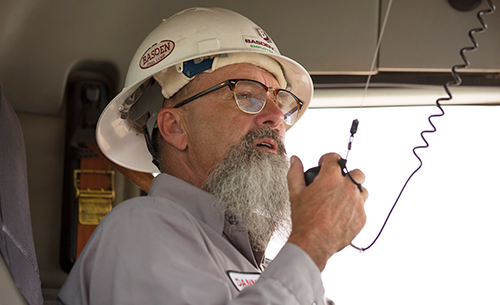 Mel was able to get Danny the MRI he needed almost immediately. When the damage was revealed, he arranged for Danny's surgery and stayed in touch to make sure the treatment was going as planned. Danny said Mel's knowledge and understanding manner helped put him at ease.
"He was just so remarkably considerate and respectful of my well-being. Mel would just call me out of the blue to say 'hey, I'm just checking on you.' That was important to me."
The surgery went well. They reattached Danny's bicep muscle and cleaned up the rotator cuff. But there was still one problem—Danny wanted to get back to work.
"I'm a go-getter. I don't like just sitting around," he explained.
Unfortunately, his injury did not allow him to drive his truck.
Mel understood. He talked with Basden and they arranged for Danny to return and do modified duties that kept him on the job, but didn't interfere with his injury or recovery.
"It's ideal to get people back to light duty in some form just so that they stay engaged with the employer," Mel said. "In Danny's case, he's a hard worker. He told me he gets bored staying at home, so getting him back on light duty helped him stay occupied and earn decent money."
Bruce Basden, owner of Basden Steel, said light duty is a beneficial program, but it takes planning.
"Texas Mutual has risk people that came in and advised us on how to put together a return-to-work program," he said. "You want to be prepared, you don't want a worker getting hurt and now you have to dream something up. You want to have certain jobs laid out in front of your management team so that they can say 'okay, we've got this job that needs to be done, we've got a guy that needs to get back to work, let's plug him into that spot.' So coaching ahead of time is the trick, you don't want to wait until after the need is there."
The light duty proved to be a productive choice for Basden Steel, and it helped Danny with his recovery. Today, he's healed and back to driving his truck. He only missed five days of work, which could have been much longer if Texas Mutual hadn't responded so effectively.
"It wasn't a chore to get done. They saw that I had an issue and they addressed it and took care of it, bottom line. "
Texas Mutual is proud to be on the job with Danny and 1.5 million other hard-working Texans 365 days a year. Our return-to-work program and light duty initiatives make it possible to get recovering workers back doing productive, necessary work sooner. That's good news for employers like Basden Steel – and great news for go-getters like Danny Vowell.