...
Paige Nyman's hectic schedule would keep anyone on their toes — but few people would handle it as gracefully. Paige is a dancer with Texas Ballet Theater and she spends her days exercising, practicing her technique and making sure she and her partners are on the same page. It's how she avoids any surprises during a performance — and how she avoids injuries.
"I do ballet class in the morning, and then go through proper warm-ups and stretching, and we have a great physical therapy team we count on," says Paige, who has been with the Fort Worth-based ballet company since 2009. "And then there's a lot of little details like proper shoes and talking things through so that you're in tune with your partners. A big part of it is just recognizing you're protecting other people by being there mentally and physically. It's hard work but working hard is how you keep yourself safe."
For Paige, ballet is a way of life. She took her first lesson as a 3-year-old growing up in Kansas City and spent her last two years of high school at a ballet boarding school in Florida. The work is rewarding but after 12 years with Texas Ballet Theater, a Texas Mutual policyholder, she still finds people who think what she does isn't "a real job."
Those people, she says, have never spent time in pointe shoes.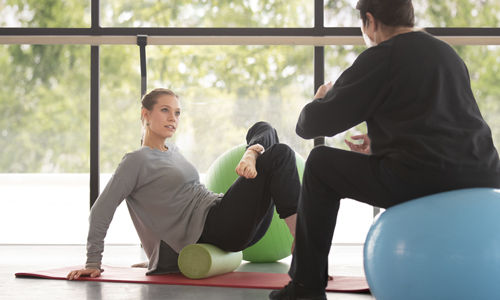 "I know it's easy to assume it's kind of fluffy and non-essential but part of that is because our job is to make it look easy. But the reality is it's demanding and incredibly athletic and we've all sacrificed a lot to be here," Paige explains. "Most of us have been training our whole lives and we'll be feeling the impact of what we've done for a very long time. But we do it because we love it. And I think there is something essential about bringing art and beauty into the world through movement and music. We're creating a magical experience and hopefully that means something to people."
While Paige and her fellow performers are careful, they know a serious injury can happen at any time. Dancers face numerous risks including torn muscles and ligaments, falls resulting from a lift or leap, and accidents involving equipment or scenery. Risk of injury is a constant concern for Texas Ballet Theater just as it is for companies in every other industry. That's why Texas Mutual provides businesses of every size and field with safety training resources, guidance on creating an employee safety program, instruction on identifying hazards in the workplace, and more.
It's our way of helping Paige — and a lot of other Texans — stay on the job.
"Safety matters to me because I want to keep dancing as long as I possibly can. I just love this job so much."
At Texas Mutual, we're proud to be on the job with Paige and 1.5 million other hardworking Texans every day. To learn more about how our safety programs are changing the way workers' comp works for you, visit our safety section.
...