...
"Dr. Redd, he's special."
Not every teacher gets that kind of appraisal from a student. But it's an accurate description of Dr. Sidney "Skip" Redd.
"Of all of the teachers that I've ever had in my life, Dr. Redd has been one of the ones that has influenced me the most," Jordan Johnson, one of Redd's students, said. "I'm a music guy myself, and to see his vision for the music program here and just to watch the countless hours he puts in, I respect him so much."
Dr. Redd teaches music at Life High School Waxahachie. Handling band and choir keeps him busy, but he enjoys being involved in both roles. "I love the students," he said. "I just try to relate to them and push them to a new level musically." His method gets results. Every day, Dr. Redd sees his students take the next step, get a little better and do a little bit more. And every day, they see him do the same. That became more apparent than ever when Dr. Redd's life was changed on a school field trip.
On April 6, 2017, Dr. Redd accompanied 106 students to a trampoline park for an end-of-the-year party. "I was trying to connect with them, show them I wasn't an old man, I was still cool and could do things," the former college cheerleader explained. "I've had a trampoline since I was 15 years old, so I've done thousands of front flips and back flips and turntables. I couldn't get the height that I knew I needed, but I thought 'let's just do it and get it over with.' I went up and came down on my head."
The impact broke his C6 and C7 vertebrae, pushing them into his spinal cord. "The doctor came in and looked at my legs and said 'you'll never use those again.'" It was a difficult moment for the active grandfather. He faced the prospect of not only never walking again, but never again playing music. He needed help. Texas Mutual is Life Schools' workers' comp provider, and the company knew they needed to step in and help Dr. Redd find a way back.
"I first received Dr. Redd's case and realized very quickly he needed some extra Mutual Care. That's what we call it here at Texas Mutual," Catastrophic Claims Supervisor Kristina Yandell said. "After his accident, he was being told that he was basically a quadriplegic—no use of his arms or legs."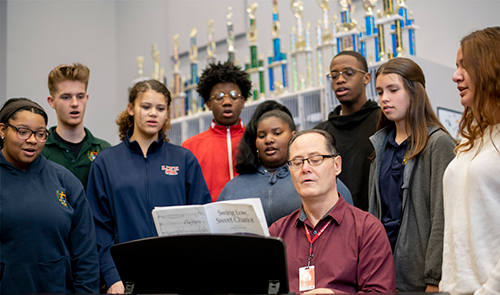 The catastrophic claims team retooled Redd's home, building ramps inside and outside so he could maneuver the property in an electric wheelchair. They also arranged for him to have in-patient rehabilitation at TIRR Memorial Hermann. "When they said it was TIRR Memorial in Houston, which is the second top spinal cord injury place in the nation, and that Texas Mutual would pay for it, I was just elated," Dr. Redd said.
Texas Mutual has partnered with TIRR Memorial on a number of cases and seen successful outcomes. For the first time since the accident, Dr. Redd had hope. "Whenever I would get done with a long five- or six-hour therapy day, I would sit back and think 'okay, I want to live. I want to do this, I want to make it. I want to get back to the students to prove to them it's okay,'" he said. "I wanted to live for my kids and grandkids." When his therapy was complete, Dr. Redd returned to Waxahachie. Life High School recognized him with an on-field tribute during a football game. He called Kristina to tell her about it.
"I remember thinking 'oh, okay, you're going to be recognized and they're going to take you out on a wheelchair,'" she said. "And he goes, 'No Kristina, I walked out onto the field.'" He sent her a video of the event.
"Of course, I'm up and sharing it with everybody on my team," she said. "To see somebody go from being told that they would never walk again, possibly never be able to feed themselves or brush their teeth or anything, to someone who was up and walking at that point—it's motivating. It's why we do this." In August of 2018, Dr. Redd went back to work. "The first day of school, just to see him in front of the class, just walking around and talking to us like before, we couldn't believe it," Jordan said.
The work isn't over. Dr. Redd still has obstacles to overcome, but he's made tremendous strides. In April, he walked his first 5k since the injury. "I'm back to playing the piano, I play every day, and life is getting back to normal for me." It's been a difficult road, but he knows he didn't travel it alone. His family, his church, his employer, his students, his doctors and the Texas Mutual team were with him every step of the way.
"Thank you for your kindness, thank you for your generosity. Thank you for letting me live again," he said.
Texas Mutual is proud to be on the job with Skip Redd. We're inspired by his progress, honored to be part of his journey, and grateful for the opportunity to help many, many good Texans get the help and hope they need 365 days a year.
...