...
Warren sits behind the wheel – but he's driven by safety.
In 1977, brothers Bob and Jim Gregory began Texas Disposal Systems with one truck and one customer. Today, the family of waste collection and processing companies services hundreds of thousands of customers in over 50 counties. Since February of 2015, Texas Mutual Insurance Company has been their workers' comp provider. We help TDS protect its more than 800 employees, including 241 drivers – good drivers like Warren Paynes.
Warren has been with the company for 12 years. He's a lead residential driver, and he knows his job.
"I collect trash, deliver carts, do all the commercial accounts that I have in this city," he said. "Before we go out, I pre-trip the truck to make sure things are in operating order. When we're on the route, we're clean and neat, as always, and we make sure we're safe from beginning to end."
Safety affects everything Warren does – how he gets in and out of the vehicle, the tools he uses, the communication he has with his route partner and the way he approaches being behind the wheel.
"You have to be alert at all times," he said. "You're out there with the public, so your head is on a swivel. I just stay vigilant. I'm very attentive, always looking around for sounds and lights. Of course, little kids love the trash truck, and they want to run up to us. So when they come around, we stop the vehicle."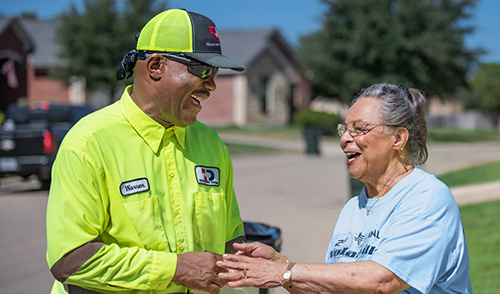 TDS is a safety-focused company. It's one of the reasons they like partnering with Texas Mutual. We provide a wide range of safety resources the company uses in its training program, and they know Texas Mutual will be there for their people offering assistance and support when they need it. That's in addition to our dividend program, which rewards TDS for protecting employees on the job.
That protection starts when they hire their drivers and continues throughout their employment. TDS promotes defensive driving, teaches techniques for avoiding distracted driving, mandates safe working techniques like three-points of contact when entering and exiting vehicles, and more.
"I don't allow a phone or anything to distract me. There's zero tolerance," Warren explained. "You cannot talk on your cell phone if that truck is rolling. You can't work on your tablet if the truck is rolling. And if it's your supervisor calling, he understands you're not going to answer the phone, because that's what Texas Disposal Systems stands for – safety. They really drive home the point about getting home safe to your family. We get plenty of training. We have regular safety meetings. My boss actually puts out memos once a week with safety information he's come across. I work for a great company that supports me as a person, not as a number. It shows throughout the management and the ownership. They have always been there for me. I love it."
Warren enjoys helping others. It's important to him, and through his job, he's serving the community.
"It's part of being a good neighbor," he said. "I like helping. My passion in life is serving others, and I'm doing that in my job. Sometimes I go to places and people will ask me 'How can you do that for a living' And I tell them, 'Well, can you imagine what would happen if I didn't do it?' I'm a clean freak. I'm a very neat person, very organized, and my trash truck stays clean. And when I'm doing my job, I'm keeping the community clean. This is my way of serving."
Texas Mutual is proud to be on the job with Warren Paynes and other good Texans who make the road their workplace. We're committed to keeping them safe wherever they travel. For information about protecting your drivers on the job, check out our 60 Seconds to Safe Driving video series.
...