November 27, 2019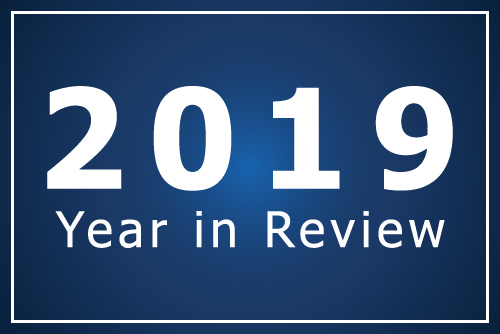 At Texas Mutual, we're not just inspired to create a stronger, safer Texas, it's a commitment we take seriously as the leading provider of workers' compensation in the state. Each day, our nearly 1,000 employees serve 7,000 agents and their 70,000 clients, representing 1.5 million workers. As 2019 draws to a close, we want to reflect on how we live up to our commitment to make Texas a stronger and safer place for everyone.
TXM for Texas
Our community program, TXM for Texas, is focused on strategic philanthropic initiatives that directly align with our overarching mission for a stronger, safer Texas. We do that by fortifying Texas businesses through workforce development and training, cultivating resiliency and stability by investing in generational learning, and helping our communities in need after a natural disaster. See some of this year's highlights:
Workforce development:
We distributed $1.1 million in workforce development grants to 16 organizations that provide apprenticeship programs, workforce training and more.
We awarded $1.5 million in policyholder safety grants to over 1,000 policyholders.
We launched a campaign, Trade Up Texas, to share real stories from people who work in the trades to help dispel misperceptions.
Generational learning:
We awarded 250 policyholders with wellness grant programs for over 35,000 employees.
We donated 11 CPR kits to Austin-area high schools to help equip our community with individuals trained in life-saving hands-only CPR.
We provided $166,590 in scholarships to 34 students who were injured employees or family members of an injured employee.
Disaster response:
We awarded over $2.4 million to policyholders affected by Hurricane Imelda to support their recovery efforts.
In response to the Dallas-area tornadoes, we donated $100,000 to the Communities Foundation of Texas to help fund their long-term recovery initiatives.
Employees making a difference
Giving back to our communities is an important part of our culture. Together, we volunteered more than 5,000 hours. Our employees also raised $310,765 in our fundraisers for United Way, the American Heart Association and the MS 150.
$330 million in dividends
This year, we paid a record-breaking $330 million in dividends to our policyholders. We're proud to share our success with our policyholders who demonstrate a commitment to workplace safety. See how ownership pays at Texas Mutual.
Fighting fraud
Our dedicated fraud team serves to protect our policyholders from those who take advantage of the system. We received over 2,000 referrals in 2018 and estimate that our work helped to prevent over $13.5 million in claimant, health care and premium fraud. See our fraud fighting in action and stay tuned for an update with 2019 numbers once we close out the year.
Safety Summits
We traveled to four cities across the state with our free safety seminars. Over 700 people attended for the opportunity to network, receive safety tools and learn effective strategies for protecting their employees.
Customer experience enhancements
Making workers' comp work for you means understanding our customers to enhance our services and systems to better serve you. We've been modernizing our systems so that our customers have a more intuitive experience when they do business with us. From our new public site, restyled tools within the login, and redesigned invoice for policyholders, we're proud to bring changes to give you a better experience.
These updates have been made possible because of valuable feedback that our customers share with us. In 2019, approximately 3,500 policyholders and 750 agents participated in surveys and user testing related to our public website, new invoice design, dividend communication and more. We awarded approximately $3,250 in gift cards in recognition of their time and effort to share feedback with us. We are grateful for those who contributed to our research, which has helped us enhance our systems and services to provide an even better customer experience. Read more about our enhancements in 2019.
Company awards and recognition
We're humbled to be recognized in the community for our efforts to lead ethically, put safety first, care for our employees and give back to our communities. See some our achievements from 2019:
2019 Ethics in Business Finalist: RecognizeGood, a local nonprofit focused on inspiring and spotlighting positive change in our communities, recently recognized us as a finalist in the large business category for the Ethics in Business Award. The award highlights Central Texas leadership who are improving our communities with fair, ethical and sustainable initiatives.
2019 Our Driving Concern Exemplary Recipient: Our efforts to keep our employees safe on the road were recognized by the National Safety Council, in partnership with the Texas Department of Transportation, in their Texas Employer Traffic Safety Awards. We're proud to be recognized for the second year in a row for demonstrating the highest standard of traffic and driving safety.
2019 Austin Gives Generous Business Award: The Austin Chamber of Commerce recognized Texas Mutual as Austin's most philanthropic business in the large employer category for our impact in the community.
2019 Best Company to Work for in Texas: Texas Mutual was recognized as a 2019 Best Company to Work for in Texas, an honor we have earned nine times, including our upcoming 2020 recognition. Our dedicated employees in Austin, Dallas, Houston and Lubbock further our mission to provide a stable, competitive source of workers' compensation insurance, and help prevent on-the-job injuries and illnesses. Learn more about the culture at Texas Mutual.
2019 Texas Workforce Solutions Large Employer of the Year Finalist: We're proud to be one of three finalists recognized for our commitment to strengthening the future workforce.
Thank you to our agent, policyholders, employees, board members and community partners for a successful year. We are proud to be the leading provider of workers' compensation in the state and celebrate this longstanding accomplishment with all who further our mission to build a stronger, safer Texas.