December 1, 2021
Looking back at our mission in action this past year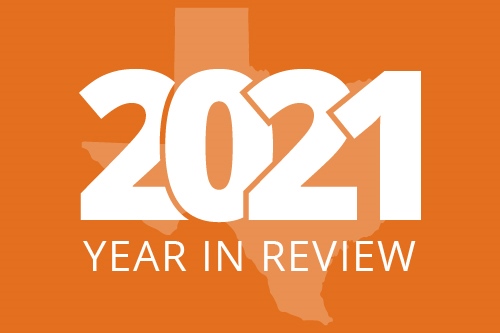 As we continue to navigate the ongoing pandemic, we've never been more committed to building a stronger, safer Texas. And as the state's market leader, we know over 11,000 agent partners and 72,000 Texas businesses count on us to be a stable source of workers' compensation, provide best-in-class service and help 1.5 million workers get home safely to their families every day. That's why we're grateful our policyholders trust us to continue protecting their business and their greatest asset – their people. Read on to see how we worked to strengthen your communities, businesses and workers' comp experience in 2021.
Texas Mutual in the community – TXM for Texas
Through our community affairs program, TXM for Texas, we're working to make our state a better place to live and work. TXM for Texas' strategic philanthropy focuses on supporting our communities by investing in generational learning, workforce development and training, disaster response and community building. See how we strengthened communities and the Texas economy with our community giving from the past year.
Generational learning
To support Texas communities, businesses and working families, we delivered nearly $5 million to nonprofit organizations through two Request for Proposal (RFP) initiatives. As part of our first grant cycle, focused on generational learning efforts, we awarded $2.2 million in grants to 38 nonprofits.
We awarded $299,071 in scholarships to 34 students through our scholarship program, exclusive to employees who were catastrophically injured while working at a Texas Mutual-covered business, and the dependents of those who died in a workplace accident.
Workforce development
Disaster response
Each year our employees put our culture of giving back into action and this year was no exception. Texas Mutual employees volunteered 2,002 hours and raised $318,034 for our company-wide fundraisers benefitting the United Way, MS 150 and American Heart Association.
In partnership with the Insurance Industry Charitable Foundation, we held our first Texas Mutual Week of Giving this past October. More than 150 employees volunteered 335 hours at 22 organizations, all to help make a difference for communities across Texas.
23 years of dividends
This year, we distributed $330 million in dividends to over 57,000 policyholders. We're proud to reward policyholders who put safety first and choose Texas Mutual. Learn more about our dividend program at texasmutual.com/ownershippays.
Work Safe, Texas Online Summits
This year, we hosted three Online Summits featuring safety experts and business leaders discussing various topics and answering live questions from the audience. All three events combined reached nearly 2,000 attendees. Our first summit of the year on April 1 covered COVID-19 related-topics like mental health, vaccinations and more. Our June 30 virtual summit covered disaster preparedness and safety trends in workforce education. In our last summit of the year on November 9, panel members discussed construction safety trends and working with OSHA.
Customer experience enhancements
Among the many customer experience enhancements our teams worked on behind the scenes this year, the most notable included our updated online experience for agents who use an agency management system, redesigned online network directory for our policyholders and their injured workers and an enhanced online final audit system for policyholders who are asked to do an online audit.
Sharing your stories
This year, we continued to tell the stories of our policyholders and their employees in our ad campaigns, from a ballet theater sharing how safety is universal no matter what business you're in to an art museum adapting to the pandemic by creating a safe environment for employees and visitors. Our agent ad campaign featured Texas Mutual employees across different areas of the company, including underwriting, safety and philanthropy, dedicated to helping our agent partners and mutual clients succeed.
Company awards and recognition
We take pride in being recognized for our exceptional service, workplace culture and safety initiatives. See some of this year's achievements:
2021 Our Driving Concern Traffic Safety Award Exemplary Recipient: For the fourth year in a row, the National Safety Council (NSC), in partnership with the Texas Department of Transportation, recognized our continued commitment to helping keep Texas roadways safe.
Best Company to Work for in Texas: We're proud to be named a Best Company to Work for in Texas for the 10th time. This year, we were also recognized as the fifth best company in the large employer category.
Ward's 50 Best Performing Property Casualty Insurers: For the ninth consecutive year, we were recognized as one of Ward's 50 top performers out of nearly 2,900 companies in the U.S., affirming our financial strength and dedication to best-in-class service.
Best Place for Working Parents designation: Earlier this year, Early Matters Greater Austin, a community alliance by United Way for Greater Austin and E3 Alliance, recognized Texas Mutual as a Best Place for Working Parents business acknowledging our family-friendly policies and culture.
High Performing Carrier designation: The Texas Department of Insurance, Division of Workers' Compensation recognized Texas Mutual as a High Performing Carrier as part of their assessment of workers' comp carriers in the state. This illustrates our commitment to caring for injured workers and provides peace of mind to our customers who count on us to provide exceptional service.
As we look forward to the year ahead, we're grateful for our agents and policyholders who count on us to be there for them and look forward to our continued partnership. We're also proud of all the work our 1,000 employees do each and every day to take care of our customers across the state and make it possible for us to be the leading provider of workers' compensation in Texas. We are deeply invested in the success of our employees, customers and communities because we know when Texas succeeds, we succeed.